Junior Golf Coaching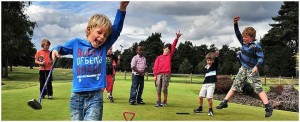 If your aged between 6 years and 12 years old, you can be part of our Junior Coaching Programme
This is a structured coaching run in term time only.
Coaching the total beginner through to established players
Fun, safe environment
Structured Coaching Programmes
Obtain a Golf Handicap
PGA Qualified  Professional coaching
Holiday Fun Days
Fun Competitions
FREE Membership to play our 9 hole/18 tee Academy golf course.
The sessions take place on the Saturdays at 9am, 11am and 1pm. During these sessions we cover all aspects of the game. 
 We be running the coaching sessions during term time only. We will run the coaching in 3 terms.
September- December(13 Weeks) £91, January to April(10 Weeks) £70 and April to July(12 Weeks) £84
The new term of 13 weeks of golf coaching will start on Saturday 9th September 2017. 
9TH Sept, 16th Sept, 23rd Sept, 30th Sept, 7th Oct, 14th Oct, 4 Nov, 11th Nov, 18th Nov, 25th Nov, 2nd Dec, 9thDec and 16th Dec
 
The cost for the 13 weeks will be £91.00.  Please register and make payment by the 13 August 2017
For more information please contact Tim Baker on 01264 357555 or email tim@thehampshiregolfclub.co.uk